ISUZU NJR 4 ton sewer jet truck Description:
---
ISUZU sewer jet truck also called Combined jet vacuum truck, suction jetting truck, combination sewer cleaner, combined jet suction truck, jetting and vacuum truck, vacuum and jet vehicle, combine jetting / sucker truck
The fecal suction truck is a vehicle that is designed to clear any blockage with jetting nozzles moving in sewage pipelines under high pressure, and clear sewer drain lines by means of powerful vacuum suction to suck all water plus mud from the sewer hole. This truck is widely used for environmental protection.
ISUZU combined vacuum jetting truck carries a high-pressure pump, a water tank, high-pressure hoses and nozzles; also vacuum, vacuum tanker, suction pipeline. and can be mounted on chassis 4×4, 4×2, 6×4, 6×6, etc
Advantage:
---
100% custom-made
5,000L to 22,000L available
Easy operation & Easy maintenance
15 years of spare parts & Technical support
ISUZU ELF 100P chassis, perfect performance
ISUZU technology engine option, super-powerful, no overhaul within 500,000 km.
Optional Italy imported high-pressure pump, super powerful, efficient pump in and out
Famous Chinese brand vacuum pump, effective and dur
High-pressure cleaning hose with automatic reel
The strong, durable, perfect performance
Specification:
---
ISUZU NJR 4 ton sewer jet truck Vehicle Description

Overall dimensions

5995X2300X2600mm

GVW

7300kg

Mass in working order

4000kg

Chassis brand

ISUZU 100P

Type of traction

4X2
​T Anker Description

Water tanker

Tanker capacity

5.5cbm

Tanker material

Carbon steel

Thickness

4mm

Pump

Type

Germany brand PF36

Speed of flow

122-153L

Pressurization

13-16Mpa

Standard configuration

Equip with 60m of high-pressure tubing and 10 units of high-pressure nozzle.

Fitted with sandwich PTO.

Optional

1.

 

Italy high-pressure pump

2. Auxiliary engine

3. Low-pressure water pump system

4. Water sprinkling device

5. Washing machine for pre-pose
Working parameter:
---
Dredge function
Sewage suction function
High-pressure pump brand
Tianjin Tongjie standard, Germany Pinfu optional
Vacuum pump brand
Veyron is standard, Shandong water ring pump is optional
Drive method
Chassis engine + sandwich power take-off
Drive method
Power take-off, Weichai 340-420 vice machine
Dredge stress
16-24 Mpa
Suction pressure
-0.3Mpa
Dredge traffic
75-275 liters per minute
Exhaust flow
6-35 cubic meters
High pressure tube length
Standard 80 meters, can add 40 meters
Sewage pipe length
Standard one 8 meters, can add 4
High pressure nozzle
Standard 10 nozzles with different functions
Blowdown method
Air blowdown + tank tail flow + lift dump
Coil reel
Hydraulic rotation + labor saving + tube self-cleaning
Tank material
Carbon steel Q345, stainless steel 304
Antifreeze measures
Pneumatic blowing or vacuum suction
Medium and small tank thickness
5 mm tank, 6 mm head, 4 mm partition
Jug location
Hanging water tank on both sides, front tank of sub-bin
Thickness of large tank
Tank body 6-8 mm, head 8 mm, partition 5 mm
Optional configuration
Liquid full alarm, liquid full stop, anti-corrosion treatment in tank, solid-liquid separation filter cartridge + hydraulic twist
New craft:
---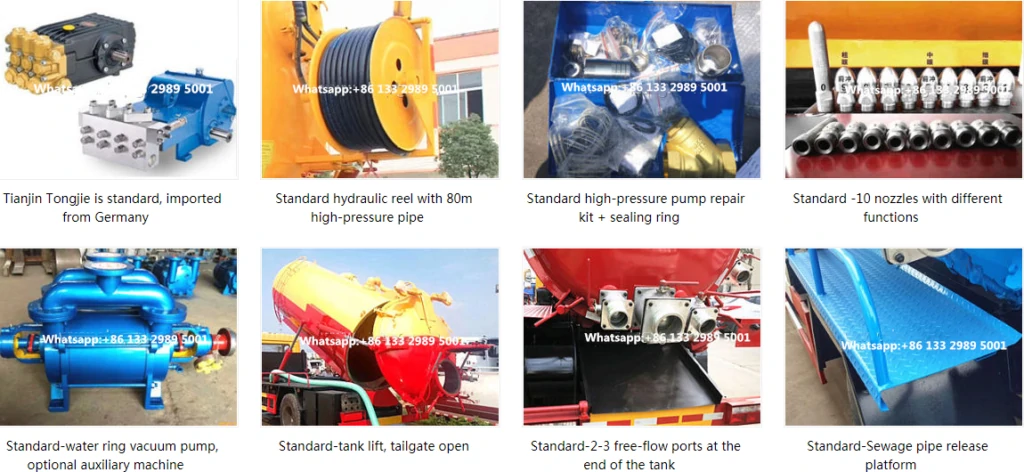 Optional configuration:
---

Toilet suction truck composition structure:
---
Fecal tank truck technical training support:
---

Vacuum fecal trucks part, tools and instructions:
---
Free parts for 12 months.
Supply of original parts.
DHL serves 7 days worldwide.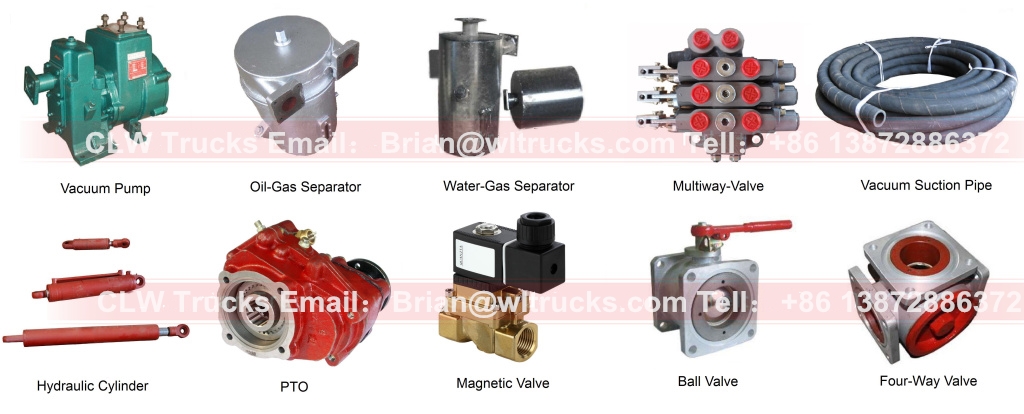 Toilet liquid tanker vehicle truck Factory Advantage:
---
16 years of design and export experience.
100% customized trucks.
Quick delivery guarantee.

Septic tanker Documents:
---
Serving more than 80 countries and regions.
Professional guidance on import documents.
CO, FORM E, FORM P, pre-implantation inspection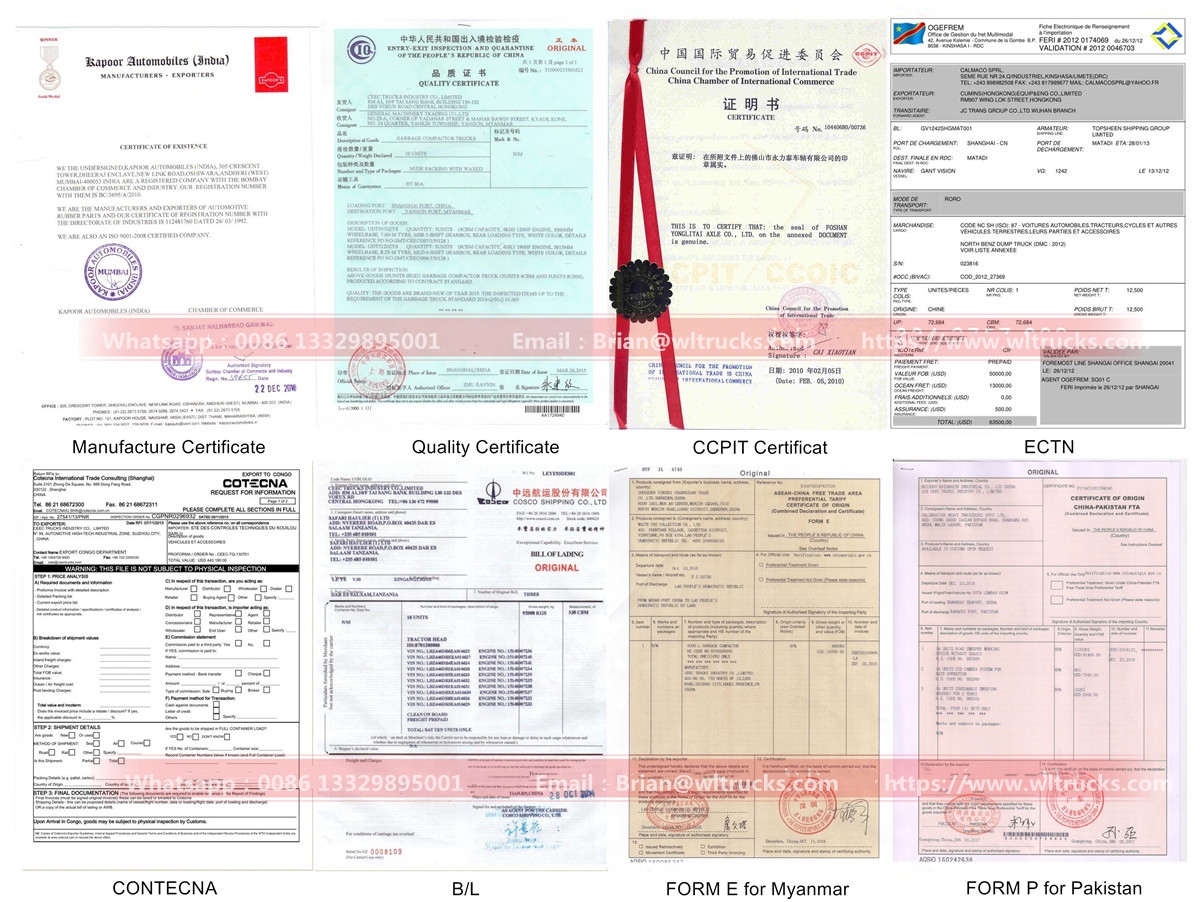 Shipping:
---
Maximize your hipping costs.
Professional guidance on import documents.
Safe, fast and timely

Order case:
---
Fast shipping to all parts of the world.
The truck color and logo can be customized.