ISUZU NPR 6.8m box day old baby chicks truck Description:
---
Isuzu day old baby chicks truck also called chicks transport truck,Day old chick vehicles,chick transport vehicle,Baby Chick transport truck,live chick transport vehicle,Day old chicken transportation truck,Chick carriage truck,Chick conveyance truck.
Day old chicks truck mainly used to transport chicken seedlings, duck seedlings and other livestock and poultry seedlings. It solves the characteristics of high or low temperature, insufficient ventilation and high mortality in general trucks.
It uses the insulation technology of refrigerated trucks and the installation of ventilation and exhaust systems in the boxes.
The heating system greatly improves the survival rate of transporting chicken fry and duck fry. It is the first choice for breeding farms.
Advantage:
---
The temperature of the special transporter car is constant temperature, and it also has the characteristics of refrigeration, heating, exhaust, and large transportation. It can transport the chickens in hot summer or cold winter. Chicken seedling survival rate.
The chick transporter can install a temperature display in the cab so that the temperature inside the cabin of the chick carrier can be monitored at any time.
There are several ventilation and heating equipment in the compartment of the chicken carrier transporter, and there are multiple exhaust vents in the compartment. The air is ventilated and ventilated to ensure that the chicks in the compartment have sufficient oxygen.
the special transport vehicle for chicks also has the characteristics of environmental protection, dustproof, sunscreen, corrosion resistance, etc. The materials used are made of high quality FRP materials.
Our company can customize the chicken carrier transport according to the special requirements of the users.
Specification:
---
Product name
ISUZU NPR 6.8m box day old chicks truck
Overall dimension(L*W*H)(mm)
8970X2260X3310
Chick van box dimension(L*W*H)mm
6860X2100X2000
Drive type
4X2 LHD
Total mass(kg)
10550
Gearbox
6-speed transmission, manual
Tire specification
7.00-16, 6+1 tyres
Power steering
Yes
Exhaust braking
Yes
Air-cut braking
Yes
Driver cab
ISUZU ELF 700P cab with air conditioner
Engine
190HP engine
Emission standard
Euro V
Performance and consumption
Heating system
Watering system
Without, the client chooses to install
Cooling system
One refrigerated reefer
China made high quality vehicle-powered refrigerated reefer( the lowest temperature inside the cold room box up to -10℃, adjusted at the driver cab)
Ventilation system
Air duct installed on the floor for airflow
Two-line as the pictures show
Blind windows
3 sets of blind windows with sliding doors for the left and right van sides (as the pictures show),

Windows: 3*2=6

electronic ventilator fans
2 sets of electronic ventilator fans for the front and rear plate;

Electronic fans: 2*2=4

Sky-window
Top-mounted sky window* 2 sets sky-windows

Sky-windows: 2*1=2

Dimension
Chick van box body
Length
6860mm
Width
2100mm
Height
2000mm
Material
Exterior and interior
High quality with the whole skeleton of the SANDWICH plate bonding process.

Inner plate use high-quality fiberglass and exterior plate with Fiberglass Reinforced Plastic (FRP)

Middle insulation layer
Middle insulation layer with high-quality 80mm PU foam sheets.
Chicks nos.
About 40,000 chicks
baby chick vehicle details description:
---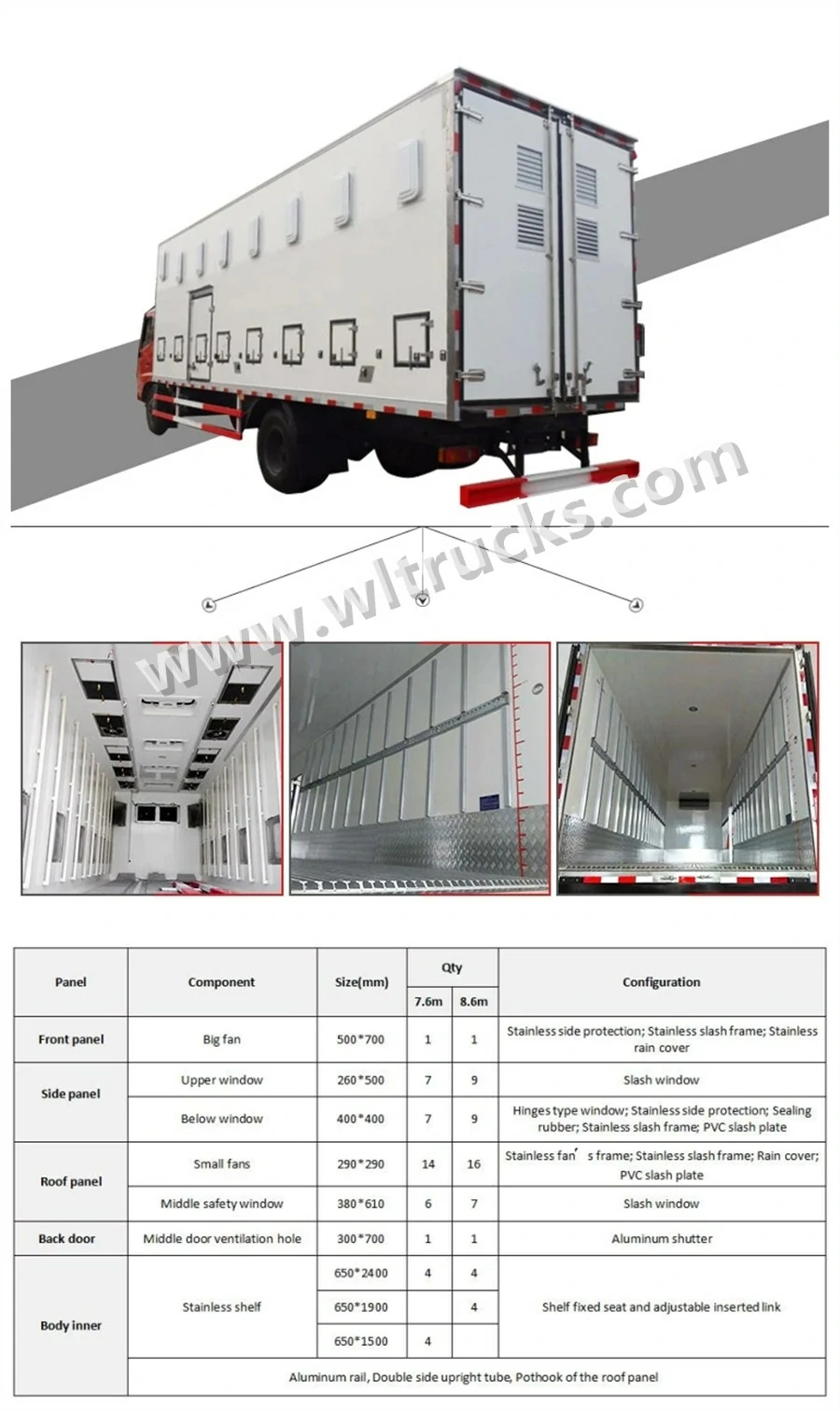 Day old chicken transportation truck New craft:
---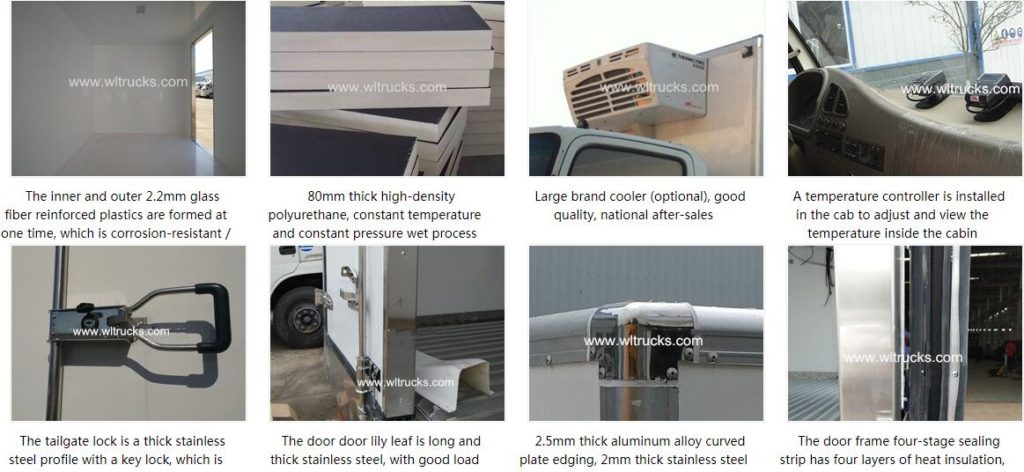 Factory Advantage:
---
17 years of design and export experience.
100% customized trucks.
Quick delivery guarantee.

Documents:
---
Serving more than 80 countries and regions.
Professional guidance on import documents.
CO, FORM E, FORM P, pre-implantation inspection