Customer: a mining company in Ethiopia
Delivery time: January 2022
Project overview: 24-hour water supply in the mountains and forests of the mining area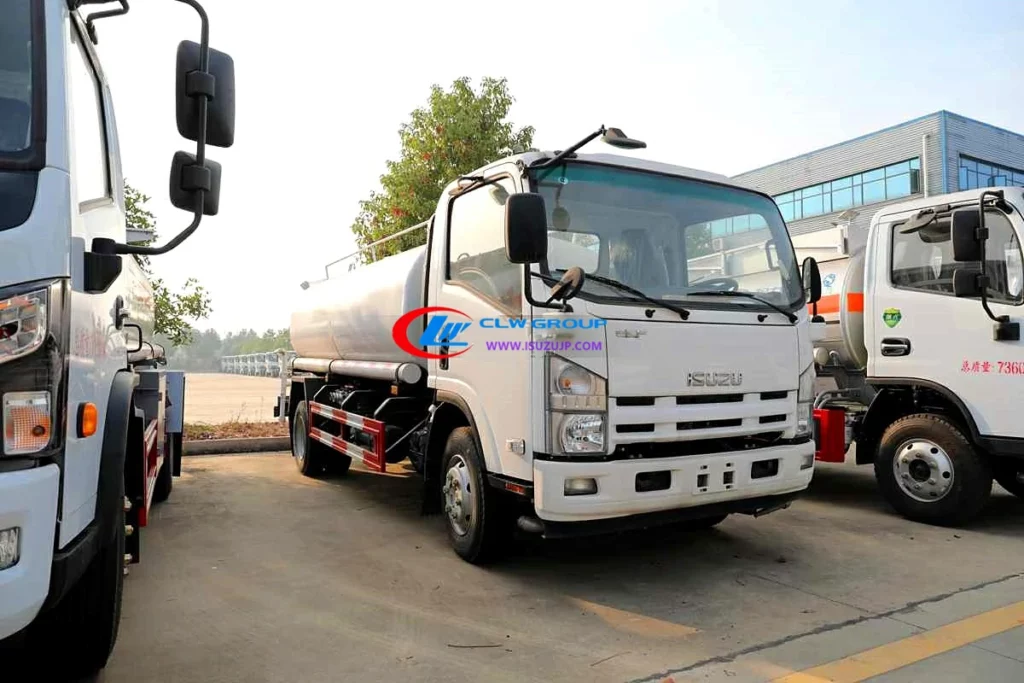 A mining customer in Ethiopia ordered another Isuzu NMR 8 ton water dispenser truck. The vehicle is 4×2 driven and is specially used for mobile water supply in mining areas and mountain forest areas. It has the advantages of flexibility and stable performance.
The key components of this Isuzu water dispenser truck are imported components, which have the advantages of good sealing, convenient operation and safety.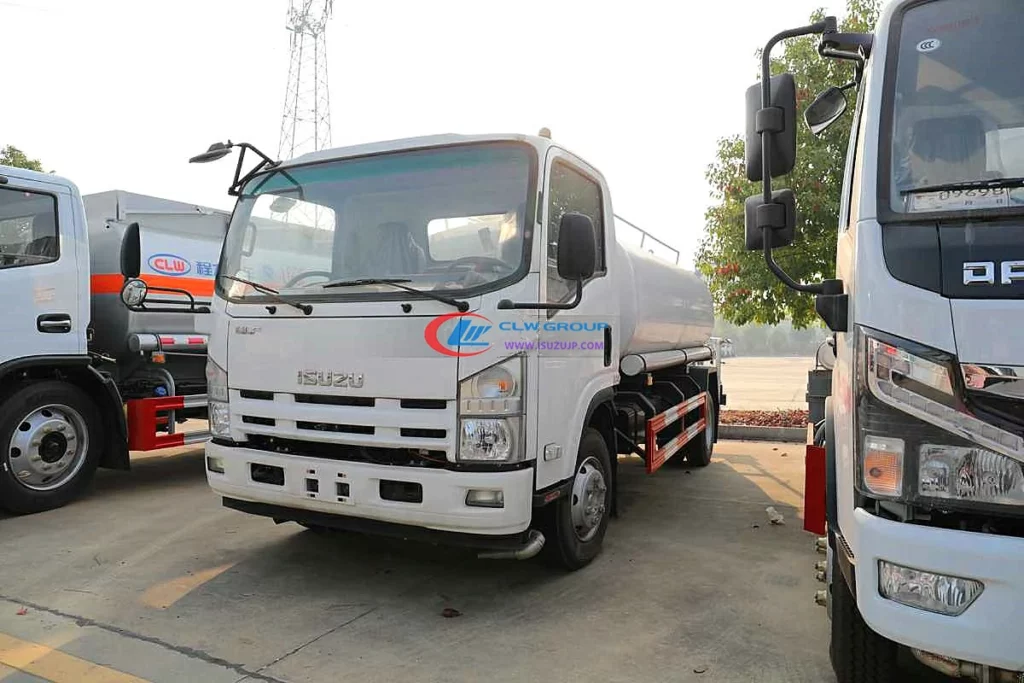 Chassis configuration:
Produced by Isuzu NMR Euro V chassis, 4×2 drive, especially used for rough road conditions, equipped with Isuzu 190 hp engine, Isuzu original MLD 6-speed gearbox, heating and cooling air conditioning, with steering assist, front axle 4 tons, rear axle 7 ton, 235/75R17.5 tires, with audio, with USB interface retractor, oil brake with vacuum booster pump, car interior.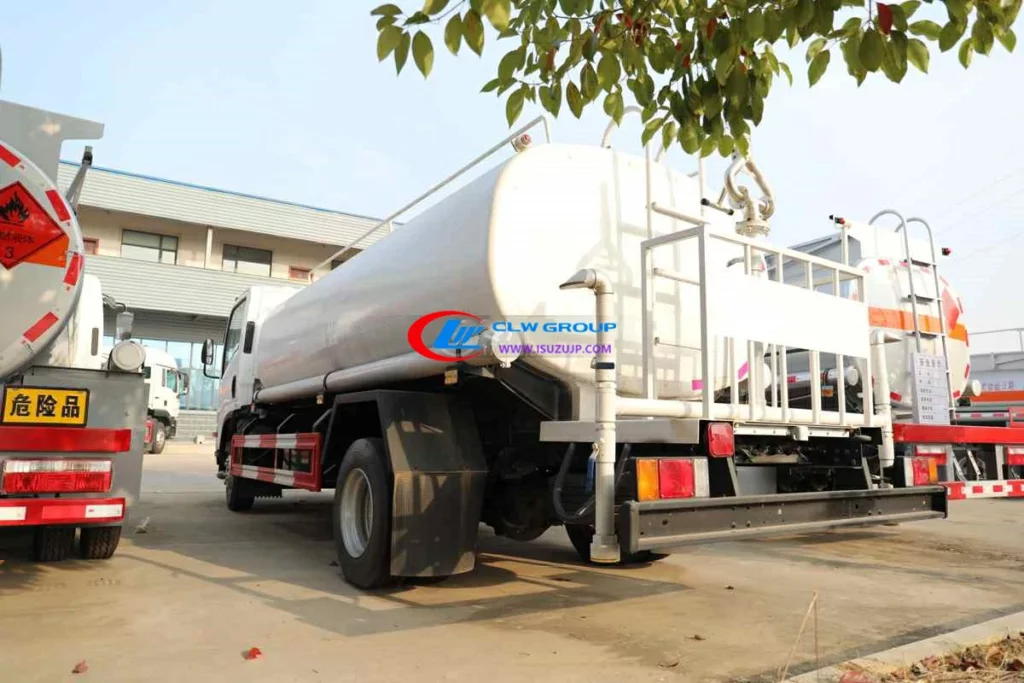 Body configuration:
The volume of the tank is 8 cubic meters. The tank is welded with a 4 mm thick carbon steel plate. It is equipped with a wave-proof board and a high-power sprinkler pump. It can self-absorb water and pressurized drainage. Nozzle, high-level green water cannon with high tail, with a range of 28 meters, adjustable water column, heavy and moderate rain, drizzle, etc., can be used for temporary fire fighting.
Detailed technical parameters of Isuzu NMR 8 ton water dispenser truck: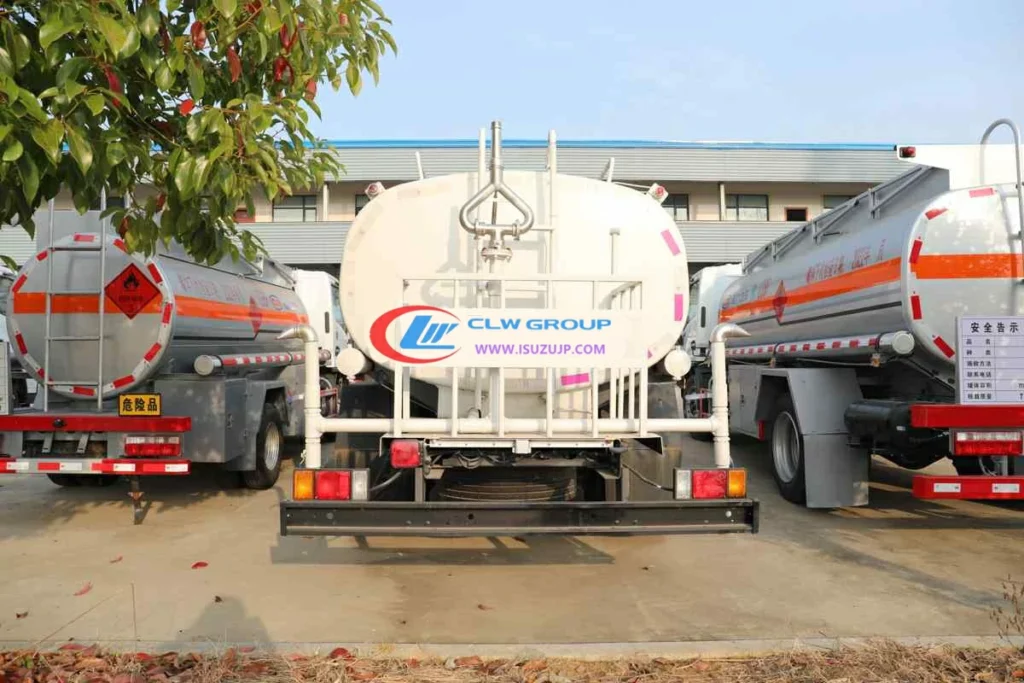 Mian Technology Parameter
Model Name
Isuzu water tanker truck 8000L
Driving Type
4×2,left hand drive
Color
White
Weights
Rated payload weight(kg)
8000
Curb weight(kg)
4000
Dimensions
Wheelbase(mm)
4175
Overall Dimension(mm)
7000×2300×2650
Box dimension
8000L(2000 gallon)
Max speed(km/h)
110
Engine
Engine model
4HK1-TCG40(190HP)
Engine type
4 stroke water-cooled,inter-cooling
No. of cylinders
straight-6 cylinders
Displacement(L)
5.193L
Max. output (kw)
139kw
Drive Line
Transmission
MLD 6 speeds ,6 forwards,1 reverse gear,manual operation
Steering
Power steering
Brake
Oil brake OR air brake
Cab
Cabin
Isuzu NMR
Standard configuration
with A/C,oil brake with vacuum booster pump,power steering
Axle
Front axle
4tons
Rear axle
7tons
Tire specification
Tire specification
8 .25R16 ,8.25-16 standard tire,6 tires+1 spare tire
Water truck
Water tanker material
Of high quality carbon steel (Q235).
Introduction
1. Suction≥7m Sprinkler width≥14m Range≥28m
2. with front spout, back spill and side spout function
3. with the working platform at the back, wich can be installed green high-pressure water spray gun.(The spray gun shape can be adjustable: heavy rain, moderate rain, drizzling rain or haze.)
4. Provide the best high-power sprinkle pumps quality of the national,And with fire coupling, self-flow add self- priming function.
Manhole
Man way access hole on top of tank;1 units DN500mm manhole
Horse reels
Two hose reels at each side of the truck
Water pump
Water pump model: CLW80QZF-60/90N (N/S)
Water pump flow rate(L/m): 60m3/h
Head of delivery(m): 90m
Self-priming function(min/4m):1.5
Efficiency(%):95%
Related rotate speed(r/min)1180
matched power(kw):22