Among the tank trucks, the sprinkler truck is still more popular, because the sprinkler truck has more spraying equipment and water cannons, which can be used for air dust suppression, drug spraying and other functions, which are more complete than conventional tank trucks.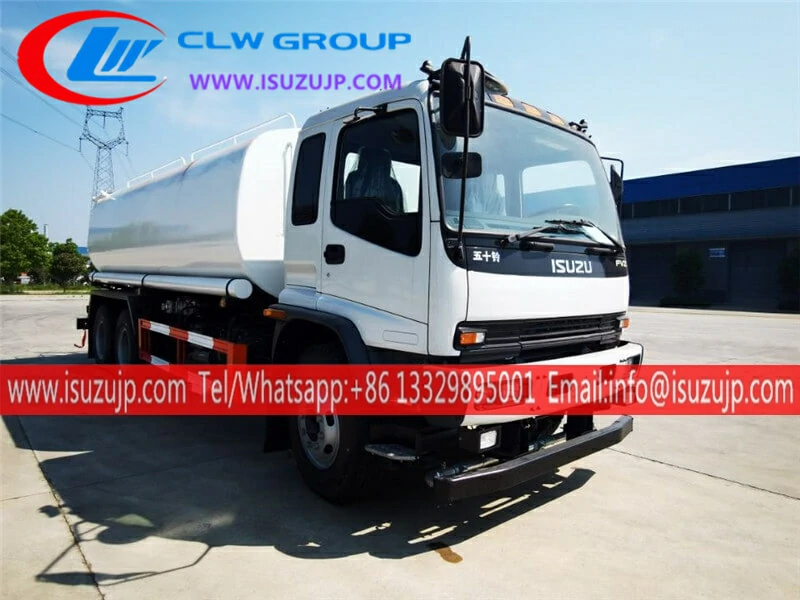 Check out this 10-wheel Isuzu FVZ 5000 gallons water sprinkler truck today!
This car uses the ISUZU FVZ series of semi-high top-row semi-cab. The cab is equipped with hydraulic suspension, manual flip, air master seat, electric air conditioner, central control lock, electric window lifter, and skywalk as standard. Jianzhiya version, ABS and other configurations,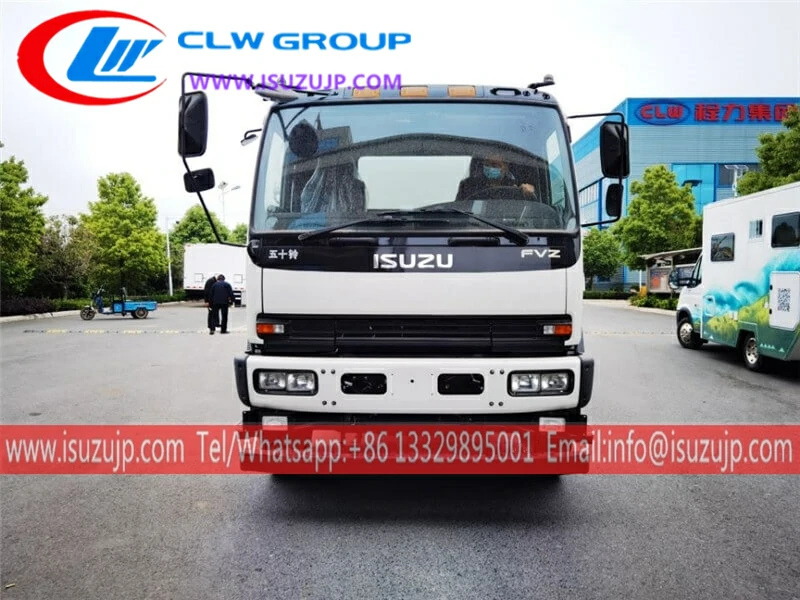 The chassis adopts a wheelbase of 4375+1400mm, 165Ah maintenance-free battery, aluminum alloy air tank, remote throttle wiring harness interface and switch, under-vehicle start and flameout function, QCD45 right flange power take-off (8JS125T), MAN 5.5T front axle, 13T/single-stage rear axle, rear axle speed ratio is 5.286, 11.00R20 steel tire, 300L aluminum alloy fuel tank;
The power is powered by a 300-horsepower engine for Isuzu, matched with a Fast 8-speed gearbox, a golden partner; it is a sanitation chassis with good comfort.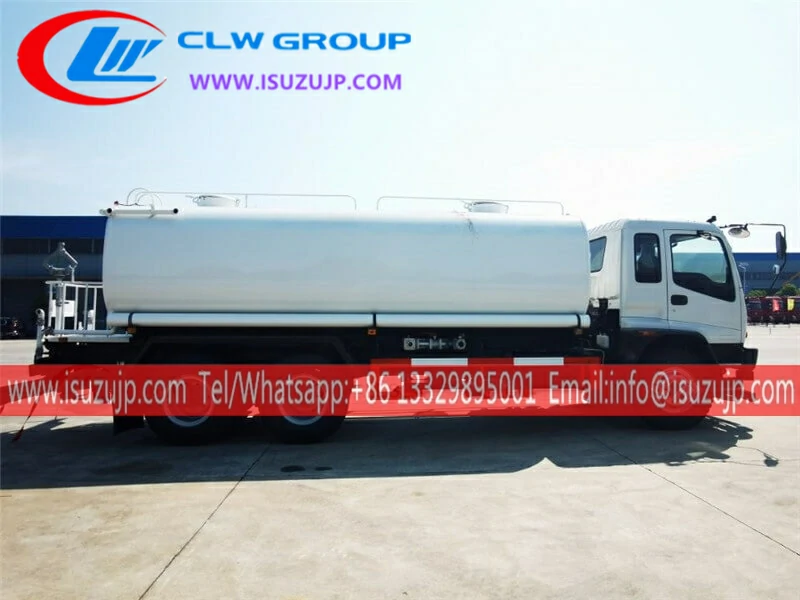 The vehicle is 10.2 meters long, 2.55 meters wide, and 3.3 meters high, with a total mass of 25 tons, a curb weight of 11.1 tons, and a rated load of 13.77 tons;
'The tank body is square and round, and many details of the tank body are exclusively molded. It is made of a Q235 foot 5mm WISCO steel plate. The overall dimension of the tank body is 6.35 meters in length, 2.35 meters on the long axis, 1.4 meters on the short axis, and the total volume of the tank is 20m3;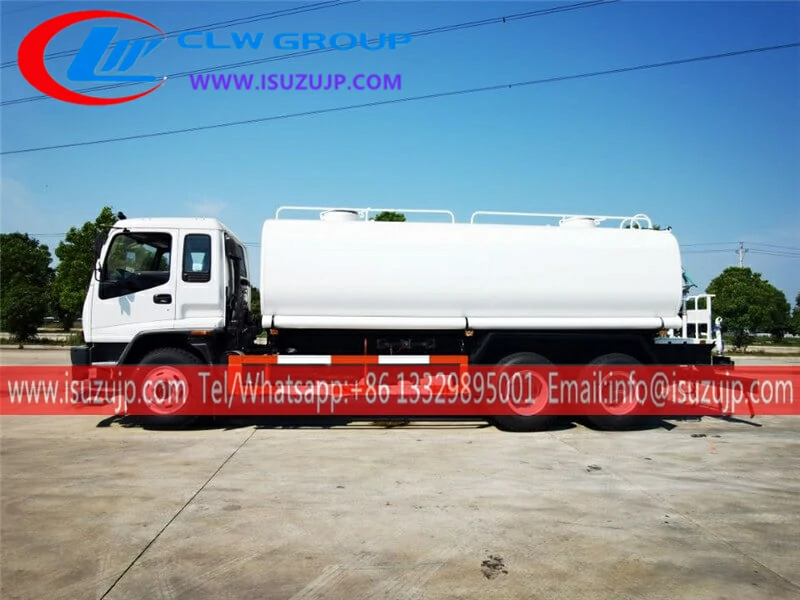 The tank body is welded by plate automatic welding, single-sided welding and double-sided forming, the head is automatically welded, and there are 4 partitions in the tank.
A transparent measuring tube is installed in front of the tank to facilitate observation of the water level in the tank; behind the tank is a ladder, a single tank opening on the tank, double guardrails on the top of the tank, anti-rust treatment in the tank, 80-type suction pipe, and double-layer baking paint on the surface of the tank. Craft, hydrogen paint finish.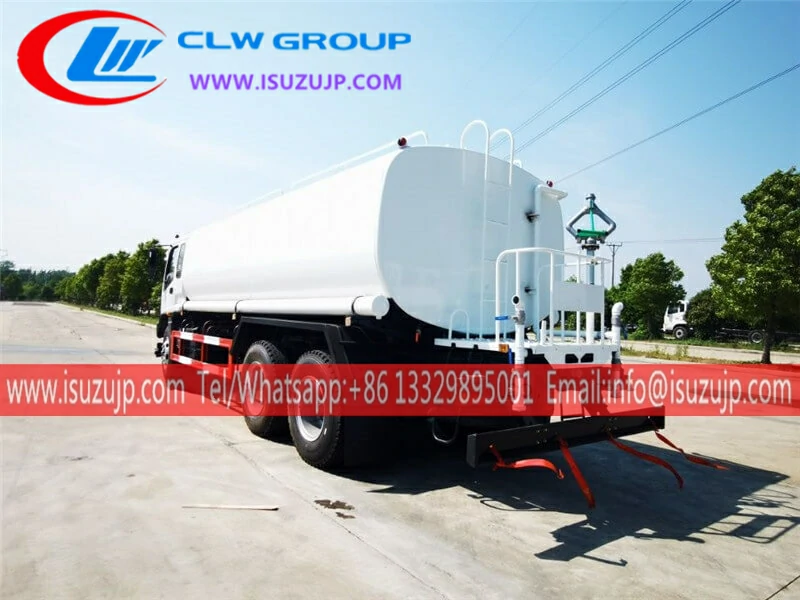 The special device is equipped with a large-flow 60-90 sprinkler pump, which can be self-priming and self-discharging. The installed functions include an artesian valve, filter screen, front flushing, rear spraying, side spraying, sprinkler cannon, and 30/40 type fog bubbles installed on the rear working platform. The unit can be adjusted 360 degrees and operated by remote control.
This Isuzu FVZ 5000 gallons water sprinkler truck has fine workmanship from the tank body, and other small details are also installed with warning lights, which are convenient for driving safety;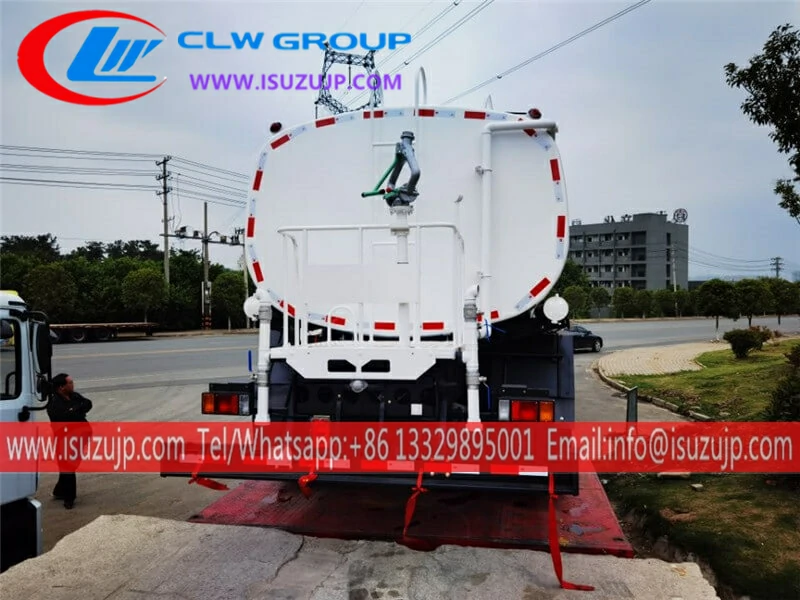 It has a large volume and an atmospheric appearance, giving people a very environmentally friendly feeling. It not only has a wide range of applications and high work efficiency, but also has functions such as greening irrigation, spraying, road maintenance, spray dust suppression, and anti-aircraft artillery spraying.
In terms of comfort and overall configuration, it is a good choice!