Isuzu FVR Fuel Bowser truck is an innovative fuel delivery system designed to reduce emissions and increase efficiency. It is also a great way to save money on gas!
Isuzu FVR 12tons Fuel Bowser truck has been tested by the EPA and found to emit up to 90% less carbon monoxide and 95% less nitrogen oxide compared to conventional diesel trucks. These pollutants are known to cause respiratory illnesses such as asthma and bronchitis.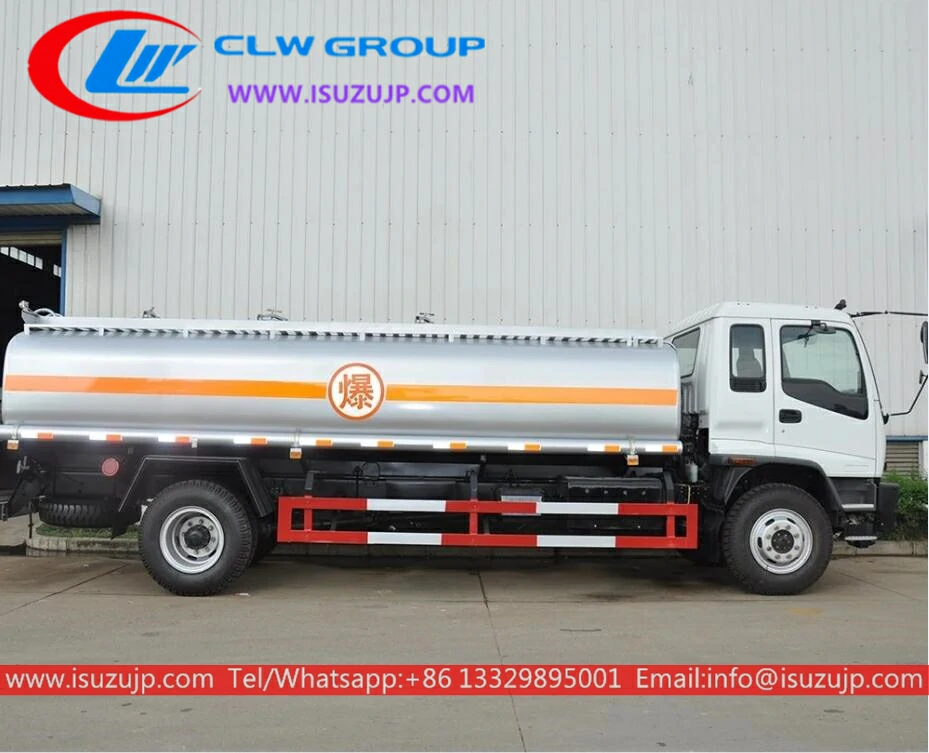 Cabin
This car adopts FVR's new generation cab. The blackened headlights and the middle air intake grille are connected to both sides. The design is fashionable and dynamic. The sunshade above the windshield is beautiful and practical.
Chassis standard
The standard configuration includes an air brake, air conditioning, electric doors and windows, central locking, ABS, a multi-function steering wheel, and other configurations.
power
It is powered by an Isuzu 240-horsepower six-cylinder diesel engine, matched with a Wanliyang 6-speed gearbox, 1100R20 steel wire tires, a 7-ton front axle, and a 13-ton rear axle. The lightweight design is lighter in weight and stronger in bearing capacity.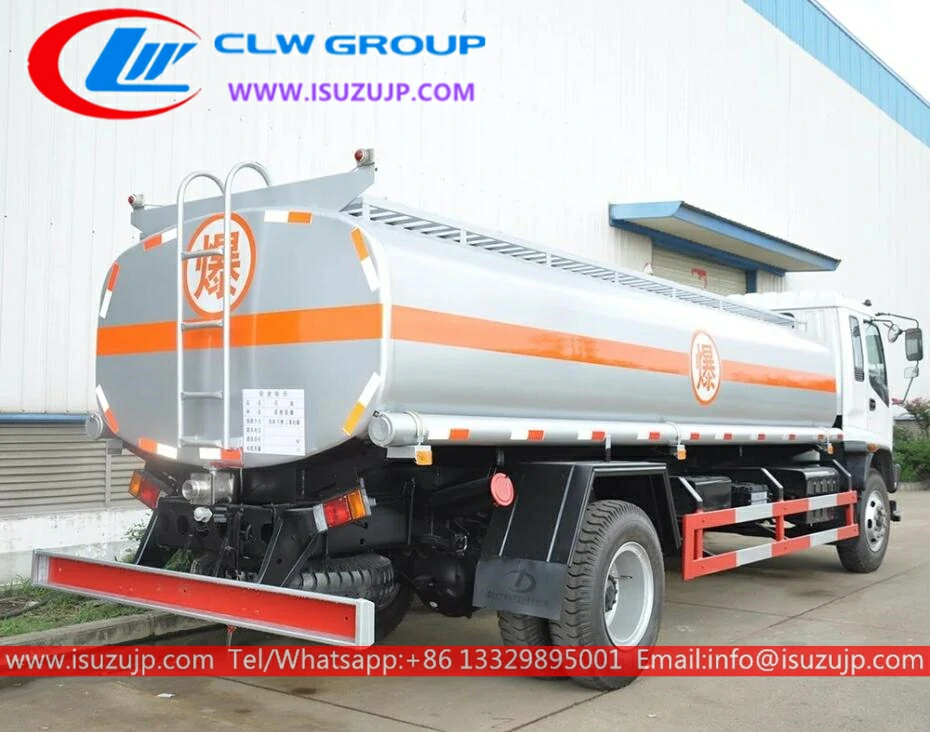 Vehicle size
This vehicle is 8.2 meters long, 2.5 meters wide, and 3.2 meters high, with a total mass of 18 tons and a rated load of 12 tons. 5.2 meters, 2.1 meters wide, and 1.48 meters high, the total tank capacity is 15 cubic meters.
side protection
The side/rear protection material is Q235, the side protection is bolted, the rear protection is welded, the rear protection section size is 120×50mm, and the lower edge is 430mm above the ground.
special device
The special device is equipped with a 76-40 Shenwei pump, which can be self-priming and self-discharging. The pump in and out are installed on the right side, with a European standard tank port, a subsea valve, 65 stainless steel pipeline, and 65 stainless steel valve outlets.
Tank installation
An emergency shut-off valve button is installed at the tail of the tank, and a large-flow liquid supply equipment and a 15-meter automatic reel are reserved, which are installed on the male stainless steel pump hanging under the left side.
The standard configuration
With mesh walkway, folding guardrail, hydraulic head, two oil pipes of the same length as the tank, a toolbox, two fire extinguishers, European lock, license plate lamp holder, static belt, other factory standards, paint Silver pink with reflective strips attached at the end.
This Isuzu FVR 12tons fuel bowser truck fully equipped is a new type of fuel delivery system that uses a tankless water heater to heat the fuel instead of using a traditional storage tank. This means less fuel is used and there is no need for refilling the tank. The result is lower operating costs and fewer emissions.